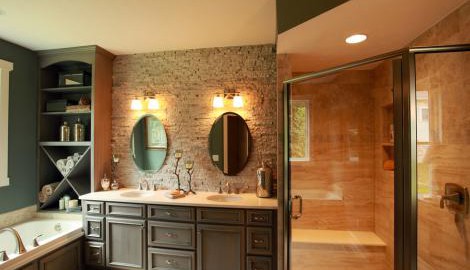 Years ago, a book titled "What to Expect When You're Expecting" hit the shelves and soon-to-be parents scooped it up to devour its pages in the house of preparing themselves mentally, emotionally, physically and fiscally for the upcoming birth of their child. 
We endeavor to be like these insightful authors, bring you, our Hill Country readers and clients, knowledge and preparatory insight for your home remodels. 
We've covered topics with survival tips to get you through a remodel,  costly mistakes to avoid, timeline expectations, Now we want to help you prepare financially by providing tips for budgeting and general costs for two of the most popular remodeled areas of the home.
Master Bath
Whether you're seasoned or a newbie in the remodeling arena, it's good to have a little knowledge in your back pocket before scheduling a remodel of any area of your home. We recommend getting at least 3 quotes, with drawings and an explanation of what is included. It is also a great idea to visit sites like Home Advisor, for general information like "The Average Cost of a Bathroom Remodel". You'll find that they state, "The average bathroom remodel costs $10,365. Most homeowners spend between $5,957 and $14,848. You can spend as little as $3,500 to $7,000 updating the essentials in a small or medium-sized bathroom. On a large or master bath, you could spend $25,000 or more." 
These numbers may or may not include the cost of the fixtures or possibly cover the costs of finishes, up to a certain dollar amount. It is wise to be up front about your max budget with the remodeling company you choose. They will be able to help you stay within your budget by suggesting alternatives in the layout, finishes, fixtures, etc that still achieve your desired aesthetic. 
Kitchen 
Remodeling your Boerne kitchen is quite the undertaking. For most homeowners, this is the heart of the home and the one room they envision so many memories (big and small) being made. Once you've completed it, you want to enjoy it for a long time, and hopefully, never have to do it again! Becoming a member of a site like Angie's List offers the benefit of allowing previous homeowners to put a remodeling company through the paces and then review them so YOU can decide if they are worth their metal. They also have fantastic resources, like this article, covering an in depth review of the range of costs for each aspect of the kitchen remodel. 
One thing to ALWAYS keep in mind with any San Antonio remodel project, is the "Unforeseen Cost". Without the prior ability to knock down walls, see the plumbing, electrical, presence of mold, etc. every home owner runs the risk of beginning a project and finding out that a major issue lies behind the walls. No remodeling company should ever overlook any issue related to your safety and your home being up to code. Unfortunately, this could mean added costs to your project. However, if you follow this advice of the experts at House Logic and budget an additional 10-25 %, it will help to offset these surprises. With any luck, you won't have to touch these additional funds!
As with every blog post, we always want to arm our clients and readers with advice to help every project go smoothly and leave you satisfied with the process and finished product. 
http://mmiremodeling.com/wp-content/uploads/2014/07/IMG_6490website_0.jpg
320
470
dziedziula
http://mmiremodeling.com/wp-content/uploads/2014/07/mmi-large-logo-1.jpg
dziedziula
2019-08-01 13:59:12
2019-08-01 13:59:12
What to Expect (In Terms of Cost) When You're Expecting a Remodel